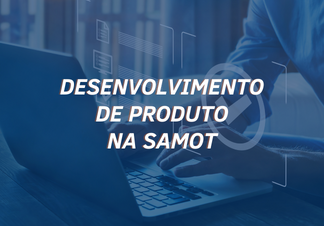 July 6, 2022
Comments Off

on Desenvolvimento de Produto na SAMOT
PRODUCT DEVELOPMENT AT SAMOT
To provide specialized service that complies with world-class market requirements, SAMOT is concerned with details from each step. After discussing about the critical analysis of quotations, today we will understand what involves the full product development process, to achieve unique, precise results.
In the beginning of the process, a kick-off meeting is held by the commercial area to inform the development team about every information on the item to be produced. At this moment, the Engineering team is responsible for the project with the support areas supporting the execution and, through the use of quality tools and appropriate methodologies, SAMOT can execute with excellence all projects, even from different segments.
To start the process, the project schedule is assembled according to all needs analyzed in advance, in a critical manner, at the moment of quotation. Thus, the bureaucratic process starts, preparing the necessary documentations and the acquisition of resources.
This way, it is possible to carry on with the production, first with sample manufacturing and, then, with the official manufacturing of the machined product. With this standard procedure of steps to be followed, SAMOT closely and carefully monitors the appropriate project development, with a few changes being possible according to the need from each client.
One differential is the constant contact with the client at all times, always keeping them up to date on the scope and leaving an open space for all questions, always with clear and responsible communication. Additionally, risk analysis tools are used throughout the project, such as, for example, FMEA, which, if aligned with the segment catered, is used whenever necessary for the product being developed.
Therefore, we can guarantee delivery with excellence according to client requirements, thanks to the entire standard procedure and specific care with each project that comes to us, always making sure that high-quality end products are delivered!