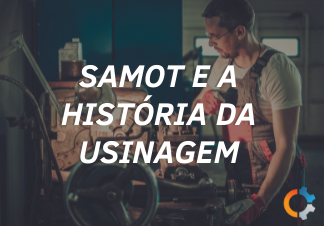 July 21, 2021
Comments Off

on Samot e a História da Usinagem
Do you know the history of machining?
The first reports on the use of a machining process date back to 700 B.C., when men already sought to mold raw materials, mainly those made of iron. However, it was only in the 17th century that the first steel companies were founded, starting a revolutionary process, further developed by processes such as machining.
The first lathes known of were called Pole Lathes, extensively used by craftsmen during the entire Middle Ages up to mid-19th century. However, archaeological evidence and Egyptian drawings show that such a machine already existed several years ago, some dating back to the year 300 B.C.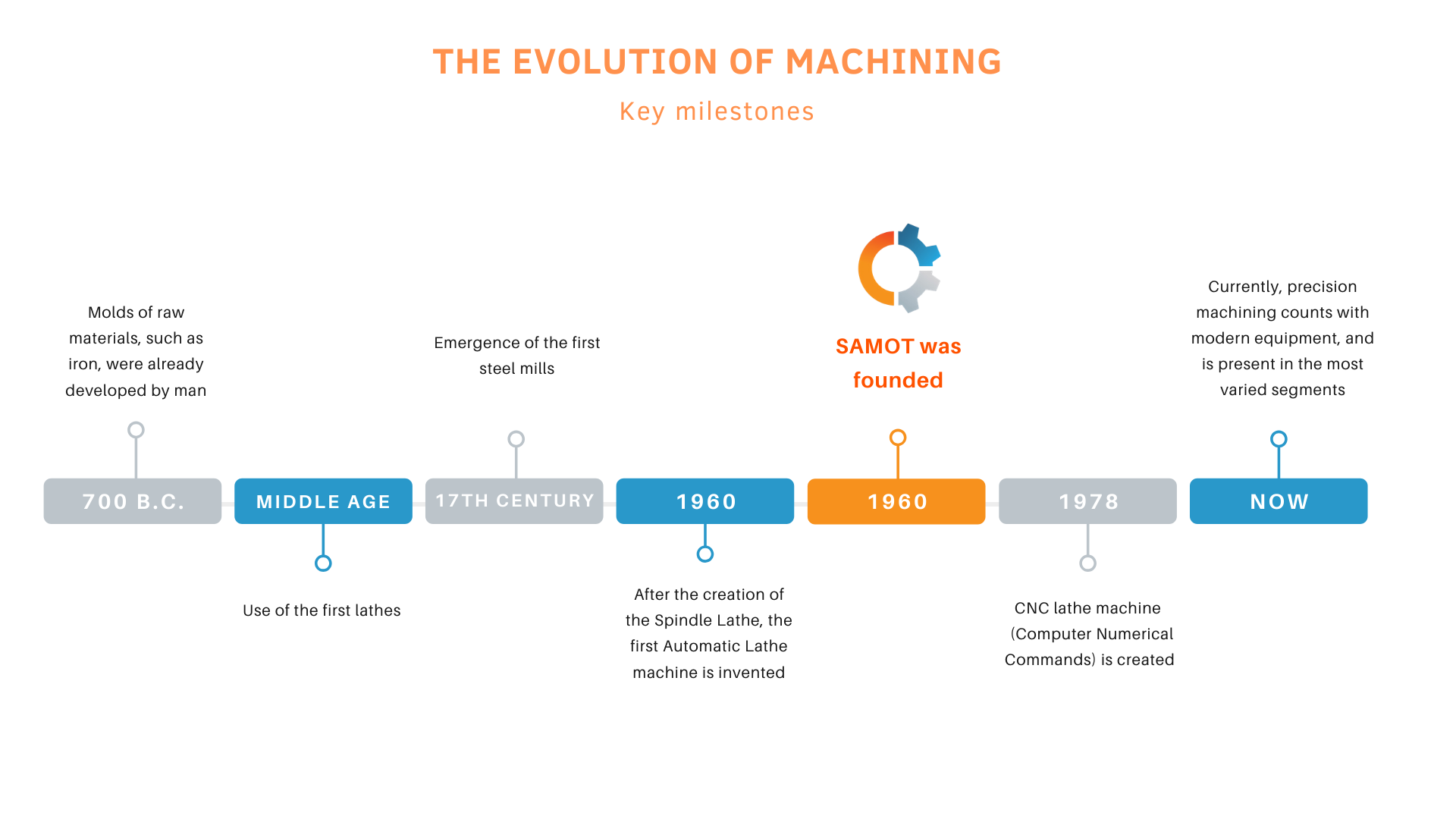 In the pole system, the piece being worked on was tied with a string onto a pole over the head of the craftsman and its other extremity was tied to a pedal, which would pull the string when pressed, making the part turn. The pole, then, made it go back to the original position. Due to its easy assembly, that type of lathe would allow artisans to easily travel to wherever they found enough raw material to work with.
At the end of the 15th century, Leonardo da Vinci (inventor, scientist, painter, sculptor, among many other professions, born in 1452 in Italy) drew up three machines onto a single page. The first of them, a lathe, used a wheel operating only for inertia. The second was a saw, and the third one was a system that used a pedal to turn a wheel, which could be attached to several devices. Leonardo da Vinci's lathe was simply a pedal and wheel that would keep the inertial movement.
Later on, due to the need for continuous rotating speed, the Spindle Lathe was created. Those lathes needed two people - or more - to be used. While a servant turned the wheel, the craftsman used his tools to shape the material. That lathe allowed larger objects using harder materials to be worked on.
Englishman Henry Moudslay created the first steam lathe. That invention not only decreased the need of labor force, since the lathes could be operated by a single person, but also required less specialized labor. Another mechanism created by him allowed the tool to be static during the work, thus increasing its precision.
As the manufacturing became more mechanical and less human, the expensive skills from craftsmen were replaced by cheap labor. This created the conditions for Joseph Whitworth, in mid-19th century, to have a factory with 700 employees and 600 tool-machines. Moudslay and Whitworth were also responsible for several other changes to the lathes of their time, such as support for tools and transverse feed.
After the changes made by Moudslay and Whitworth, in 1906 the lathes were equipped with driving belts, moved by a set of different pulleys, which allowed a wide range of rotating speeds. Its propulsion was obtained through an axle activated by an engine, which attached the machine to a specific location.
Still undergoing changes in its process, in 1960, the automatic lathe makes its debut. To meet the demand for greater rigidity, a completely closed structure was created. The machine is equipped with a copying attachment that transfers the type of work from the template through a needle.
One of the latest major changes to lathes came in 1978, with the CNC (Computerized Numerical Commands) lathe. Using a dashboard allows several movements to be programmed and stored, permitting a quick change of programs.
SAMOT
Founded in 1960 by Tomislav Jancar, better known as Mr. Tomas, Samot started to offer services to meet the needs from the recently installed automobile industry in Brazil. The first part Samot machined was the engine treaded pin for the 1200 Beetle. He used a Traub automatic lathe and a threader.
Samot accompanied the growth and development of the automobile industry, and in 1984 it purchased its first CNC lathe. It currently has a modern, cutting-edge manufacturing plant, offering complete solutions in machining with world-class results.

It currently caters to several segments, such automobile, airspace, firearms, and auto parts industries, always focused on quality and on fully meeting the requirements and delivery times. It provides machining services from aluminum, brass, and steel bars in several alloys, and of forged and micro forged blanks, as well as surface hard anodizing treatment and induction thermal treatment processes. Fully self-sufficient in aluminum, the company has a rod manufacturing unit providing products in several alloys.
Samot offers a complete production structure, from the development of raw material to the delivery of the final product, supported by a specialized team of professionals and high-performance equipment.
Samot's main production processes are: turning, milling, grinding, gear milling, broaching, drilling, rolling, induction heat treatment, electrolytic deburring and hard anodizing.
Main equipment: CNC and mechanical multi-spindle lathe, single and double CNC lathes, CNC tailstock lathes, machining centers, grinders, drilling centers, electrolytic deburring machines, broaching machines, rolling mills, induction hardening and anodizing line.
The parts reproduced by Samot are used in brake systems, engine, shock absorber, steering, air conditioning, electronic injection - diesel/gas and gasoline/alcohol - among others.